Automation was created to make your station sound live 24x7, without the costs of being 24x7.
The Digilink-HD Segue Editor was created to make your automation sound truly Live, giving your audience that human feel they are searching for.
When we designed the Segue Editor, we listened to the customers and fashioned it around your needs. With features like auto-ducking and custom overlap, your voice tracks will always sound live, without all the coffee at 3am.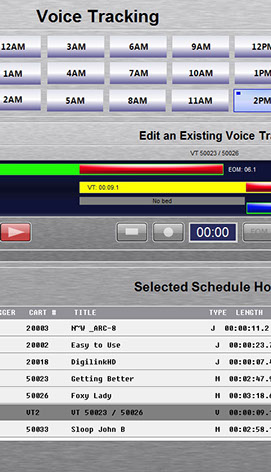 The first demand of every customer who schedules and voice tracks for their station, is that it has to be quick and easy. No one wants to spend hours scheduling a handful of voice tracks. Digilink-HD keeps this in mind.
The process takes literally seconds and is a matter of a click of a couple buttons.
With features like Tagged Text, you can add specific text to your songs, and utilize it for creating arresting voice tracks for your audience.
When creating your track, you set the overlaps of your music as well as have the ability to duck the incoming song. You can even add a Music Bed to play underneath.
This quality of sound is usually limited only to hours that your DJ is in the studio, but instead, he can voice track your whole week in hours; saving you thousands but not losing the quality.
Technology is allowing stations to become more creative and diverse. Connecting not just communities, but the entire world.
With Digilink-HD, you can capitalize on your local talent, as well as pull in remote talent from anywhere in the world. Creating content that is more dynamic and drawing in more listeners.
With the optional Remote packages, Digilink-HD gives you the ability to not just voice track locally, but to anywhere you have an internet connection. Learn more