ARC-Talk-Blue
Unprecedented.
With 5 mic , 1 USB and 2 Bluetooth Phone channels, the ARC-Talk-Blue is the ultimate news talk console. Being extremely compact, it is also excellent for taking on the road, or using in a production studio.
With two Bluetooth channels, you can conference two callers, or stream multiple devices at the same time. Use your cellphone, or connect a Bluetooth enabled landline phone.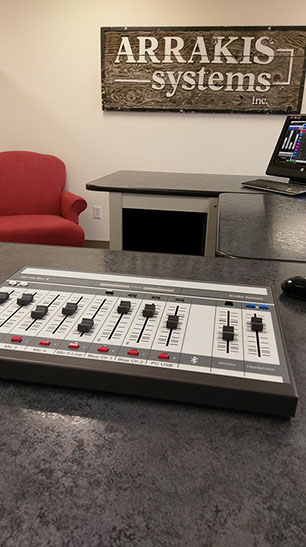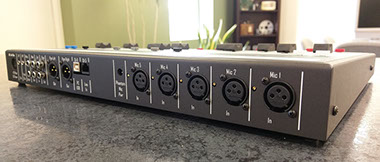 Analog Broadcast Console.
8 Channel - 1 Stereo Output.
Extremely powerful.
Compact, and packs a punch.
The ARC-Talk-Blue news talk console is compact and durable for professional Radio applications. The 0.059" steel chassis is extremely strong and well finished with two part epoxy paint. The front panel graphics are on the reverse side of a beautiful polycarbonate overlay for scratch resistance and long life. The switches have LED lighted indicators to clearly display switch status. It is excellent for so many different applications, it would be foolish not to have one.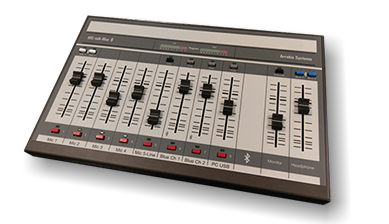 So many features in a small body.
Powerful, compact, portable, and not needing a phone hybrid to take incoming calls, the ARC-Talk-Blue is ideal for talk studios or remotes that require a mic mixer with telephone caller interface. The revolutionary console features 5 high quality mic channels plus phantom power. Channels 6& 7 on the console can be paired to any Bluetooth enabled audio device, such as your cell phone, MP3 player or MP3 recorder-editor.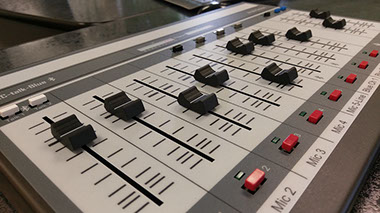 Microphone
▪ 5 High Performance mic channels. Perfect for a Guest/Host configuration.
▪ High performance mic channels, with XLR inputs.
▪ High performance mic preamps.
▪ 48 VDC phantom power.
(optional, $69)
▪ Channel 1 & 2 features a Talk button to talk to Bluetooth CH's.
▪ LED illuminated switch lamps.

Stereo Line
▪ 1 Inputs, allowing you to connect another external device.
▪ A / B Input on channel 5 gives you the ability to either connect a mic, or a line input.
▪ Active balanced RJ-45 on channel 5 A/B input.
▪ 1 stereo output bus. Both balanced and unbalanced outputs.
▪ LED illuminated switch lamps.

USB
▪ Play & Record in digital with Windows PC or Mac.
▪ USB sound card functionality to work with any software.
▪ Simple connect using standard USB cable.
▪ Play audio from your USB device directly onto your board.
▪ Record audio from your board using any 3rd party software.

Bluetooth
▪ The Bluetooth channels allow you to connect any Bluetooth enabled devices to channel 6 & 7 on the board.
▪ Connect your phone using the Bluetooth channels to take calls and put callers on-air.
▪ Conference calls. Use the two Bluetooth channels and either put only one caller on-air, or conference call both lines at the same time.
▪ Connect your tablet wireless to the board, to play audio over the air.
▪ Use a landline with your Bluetooth channels. Connect any landline phone system that has the Bluetooth headset option. This is excellent for any location that does not have quality cell service.
▪ Quality comes standard with the latest in Bluetooth technology.


Balanced & Unbalanced Outputs
Pgm output has both XLR balanced, & RCA unbalanced outputs. Including a mono mixdown.

Balanced RJ45 Connectors
All Stereo inputs are world standard balanced RJ45 connectors. 10ft. Cabling is included, no charge. Unbalanced RCA inputs are also included

Linear Faders
Conductive plastic faders for highest possible resolution and life. Dust covers designed to protect and prolong the life of the fader.

Power Supply
The power supply is auto-sensing 110-220VAC. Certified: UL, CE, CS, CB. Perfect for use anywhere in the world.

Headphone
Headphone system with stereo amp for 8ohm (or Hi-Z) headphones. Plus Monitor and Cue systems. SIMPLE-IP
AoIP for Everyone.
Need audio over IP? Simple-IP is the solution. Connect any of our ARC or MARC series boards to Simple-IP to connect your boards over Ethernet. This simple and reliable solution will save you time and money.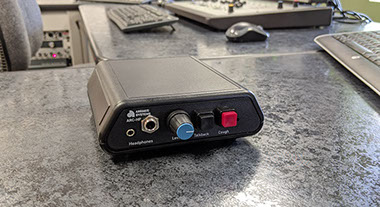 ARC-HP
Need additional headphone outputs?
The ARC-HP connects to your console output to give you an additional headphone output as well as logic I/O for Cough and Talkback. Need another headphone output? Daisy chain another ARC-HP to get as many outputs as needed.
APEX-Live is the ultimate live assist software for any Internet or Broadcast radio station. It is flexible, with customizable user interfaces; and powerful with numerous features. Use it in tandem with APEX, or as a stand alone software. And is FREE with our broadcast consoles.
Need cables, additional power supplies, phantom power supply, or other gear to help you get started? Go here.