INTERNET RADIO
How to get started
WHAT IS THE VALUE OF INTERNET RADIO?
Traditional radio requires you to have a large, and VERY expensive transmitter to broadcast to your audience. Getting FCC approval can take months, and transmitter maintenance is an endless battle.
As a contrast, Internet Radio allows you to connect to a worldwide audience, after only minutes of setup, at an extremely affordable price. With smart phones, and built-in Internet access in newer vehicles, Internet Radio is becoming more and more popular.
HOW DOES INTERNET RADIO WORK?
Internet Radio can be intimidating, but it is actually very straight forward.

STEP 1 - Get an Automation software
Listeners demand a live show feel, but running a studio with DJ's 24x7 is extremely expensive. Automation software allows you to create your custom shows and play them unattended. This way you can sound live, while no one is in the studio, and will be substantially cheaper than having a DJ in the studio all day.
Arrakis Systems offers two automation systems, and the New Wave has special offers for Internet stations.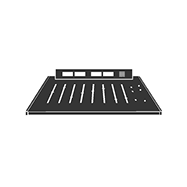 STEP 2 - Get the right Hardware
Hardware enables you to make your live shows sound professional. Connect your devices, such as microphones, phone systems, automation, MP3 players, etc... You can then have live guests, or take call-ins. Hardware is critical to help you differentiate yourself from the crowd.
Selecting the right hardware for your Internet station is important. It may seem complex at first, but it comes down to 'what do you want to do.'
So, what do you want your station to do for you?

Do you want to take calls to play live, or record for later playback?
You will need a console such as the ARC-8. This board will connect to a phone hybrid that then connects to your phone line. This allows you to take callers. If you have an ARC-10 or higher console, then you can take these callers off-air and record for later playback. Learn more.
Do you want to have live guests?
You will need a console such as the ARC-8. The ARC-8 has 2 mic channels. If you want more microphone inputs, then you may want to consider the ARC-15 which has up to 5 mic channels. Learn more.

Do you want to use Bluetooth?
The ARC-8, ARC-10 series and the ARC-15 consoles have the ability to connect to Bluetooth devices. This allows you to connect to your cell phone (replacing the need for a phone hybrid) or any Bluetooth enabled MP3 player. This is a versatile solution that adds flexibility and power to your Internet radio station. Learn more.

Live show with guests
-Automation (APEX, New~Wave or Radio~Wave)
-Console (ARC-8, ARC-10 or ARC-15)
-Cabling
-*Microphones
-*Microphone processor (optional)
-*Headphones
Call in show
-Automation (APEX, New~Wave or Radio~Wave)
-Console (ARC-8, ARC-10 or ARC-15)
-*Microphones
-*Microphone processor (optional)
-*Headphones
-*Telephone hybrid
Basic Hard Disc Automation
-Automation (APEX, New~Wave or Radio~Wave)
-Console (ARC-8, ARC-10 or ARC-15)
*NOTE - this hardware can be purchased from one of our authorized dealers.
STEP 3 - Get an Internet Streaming Service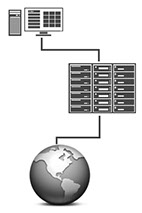 Your personal Internet bandwidth limits you to the number of listeners for your station. To overcome this, there are Internet streaming services that have server farms that take your station and share it with your listeners. These server farms for Internet streaming are the same as transmitters are for traditional radio. Some services are extremely cheap.
Our automation works specifically with Shoutcast and Icecast protocols.

Once setup, the streaming service gives you the ability to embed players onto your website as well as use their mobile apps. At that point, you may have listeners follow your station from anywhere in the world.
Some common Internet Streaming Services that we work with can be found below:
This list is expanding regularly, so please contact us if you want to use a streaming service that is not listed. Note, it may take time to add compatibility to a new service.
Are you a streaming service, and would you like to be compatible with our automation systems? Please go to this link here to learn more.
Report music played, and watch the cash flow.

If you plan on playing copyright protected music, then by law, you will need to register with
Sound Exchange. They are a performance rights organization that collects and distributes digital performance royalties to artists and copyright holders. Some of the streaming services automatically generate these reports and handle this process. You must check with your streaming service to see if this is offered.

Once you are up and running, you can now watch the cash flow in. With certain streaming services you can generate revenue from embedded ads or when your listeners purchase music from your site. You will also generate revenue from selling advertising that is then broadcast on your Internet station.
Are you already an automation or console customer of ours, and need help setting it up? Go HERE for help.