MARC-15
The Next Generation.
The MARC-15 is a feature laden, professional analog console that is perfect for On Air radio, Production, and News applications. The modular design allows the console to be configured exactly to the studio's needs and to be easily serviced. The 15 channels with up to 30 source inputs meets even the largest studio's needs.
Modular Analog.
15 Channel
3 Stereo Outputs.
Power & Flexibility.
Powerful.
The MARC-15 console is the flagship of the Arrakis Systems broadcast radio consoles. It is designed to meet the needs of any demanding radio station or group. It has the perfect balance of power & flexibility. If you demand performance that is both high tech and practical, then the MARC console is for you.
Tailored for you.
The standout feature of the MARC console is that it is modular. What does modular mean, it means you can choose exactly what configuration is perfect for your studio. Need 5 mic, 2 USB, 6 line and 2 phone modules? The MARC can do that. The options are nearly limitless.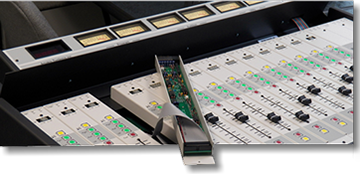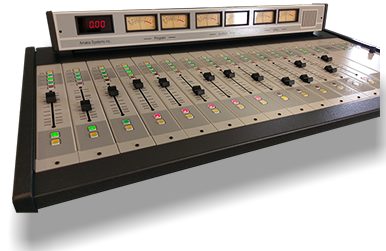 Outputs.
The MARC-15 radio console has 3 stereo Program output mixes that include mono mixdowns. In addition, there are the Monitor, Headphone and Cue systems.
Active Balanced.
All inputs and outputs are stereo, active balanced; using the world standard RJ-45 connectors. 10 ft. cabling is provided for quick and effective installation.
Eliminate Ground Loops.
A control room muting logic output is provided for an on air light. This output is reed relay isolated to remove a potential ground loop. The reed relay should be used to trigger another relay for powering the on air light.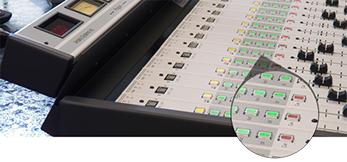 Linear Faders
Conductive plastic faders for highest possible resolution and life. Dust covers designed to protect and prolong the life of the fader.

Balanced RJ45 Connectors
All IO is by world standard balanced RJ45 connectors. The meter panel hinges for a quick & attractive install.

USB Sound Card
The USB module allows you to connect to any Windows PC or Mac computer. Giving you playback and record.

Headphone
The headphones have both a stereo, balanced, line level output for an external amp, and a headphone amp output for driving low impedance headphones.

Switches
Momentary switches are 5 million operation & LED illuminated, for an extremely long life. No more need to replace switches or bulbs.

Modular
The 15 channel modular frame allows you to choose your modules, along with creating extreme redundancy.

Power Supply
The power supply is auto-sensing 110-220VAC. Certified: UL, CE, CS, CB. Perfect for use anywhere in the world.

Phone Module
The mainframe supports two phone modules. Connect 2 calls at once. Each module controls a single external phone hybrid. Relay isolated logic is used to control the hybrid.

Reliable.
The MARC-15 modular analog broadcast radio console is the definition of peace of mind. When you purchase the MARC, you purchase a board that will last generations. Modules are simple to swap. All switches and IC's are socketed for reliability and easy maintenance.
Future Proof.
Its features are future proof. The MARC-15 will give you all the power and flexibility that is required for a growing station or group. When you choose the MARC, you are not just choosing a short term solution, you are choosing a powerful solution that grows and changes to meet your ever changing needs.
5 Modules to
choose from.
Microphone
▪ A/B Inputs (2 inputs per module).
▪ Front panel trim pot adjustment.
▪ High performance mic preamps.
▪ 48 VDC phantom power.
▪ 3 stereo output buses.
▪ A input remote channel Turret control.
▪ LED illuminated switches.

Stereo Line
▪ A/B Inputs (2 inputs per module).
▪ Front panel trim pot adjustment.
▪ Active balanced trimpot amplifiers.
▪ 3 stereo output buses.
▪ A input machine source start and stop logic is relay isolated.
▪ LED illuminated switches.

USB
▪ Play & Record in digital with Windows PC or Mac.
▪ USB sound card functionality to work with any software.
▪ Simple connect using standard USB cable.
▪ Play audio from your USB device directly onto your board.
▪ Record audio from your board using any 3rd party software.
▪ LED illuminated switches.

Phone
▪ 2 Phone modules can be used to conference call 2 callers simultaneously.
▪ Control an external phone hybrid for operation.
▪ Relay isolated logic of an external phone hybrid.
▪ Mix minus feed to the caller is a mix of Pgm-Aud-Utl.
▪ Cue button for listening to the caller only.
▪ LED illuminated switches.

Studio Monitor
▪ Monitor & Talkback fuctions between control room and other studio.
▪ Speak to the host and talent in the studio, using the Talk to Studio button.
▪ Uses Stereo active balanced audio outputs for a muted monitor feed, & un-muted earphone feed.
▪ Reed relay isolated output for on-air light.
▪ LED illuminated switches.
Configured your way.
You may choose to have as many Microphone, Stereo Line & USB modules that you need for the MARC, 15 channel, mainframe.
You may have up to 2 phone modules in the MARC mainframe, and 1 Studio Monitor.
This gives you the flexibility to choose which configuration best meets your studio's needs. SIMPLE-IP
AoIP for Everyone.
Need audio over IP? Simple-IP is the solution. Connect any of our ARC or MARC series boards to Simple-IP to connect your boards over Ethernet. This simple and reliable solution will save you time and money.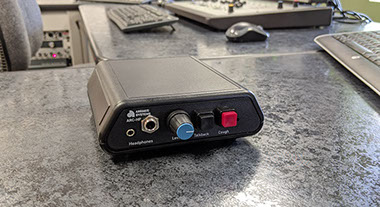 ARC-HP
Need additional headphone outputs?
The ARC-HP connects to your console output to give you an additional headphone output as well as logic I/O for Cough and Talkback. Need another headphone output? Daisy chain another ARC-HP to get as many outputs as needed.
APEX-Live is the ultimate live assist software for any Internet or Broadcast radio station. It is flexible, with customizable user interfaces; and powerful with numerous features. Use it in tandem with APEX, or as a stand alone software. And is FREE with our broadcast consoles.
Need cables, additional power supplies, phantom power supply, or other gear to help you get started? Go here.