Tailored for you.
The standout feature of the MARC console is that it is modular. What does modular mean, it means you can choose exactly what configuration is perfect for your studio. Need 5 mic, 2 USB, 6 line and 2 phone modules? The MARC can do that. The options are nearly limitless.
Reliable.
The MARC-15 modular analog broadcast radio console is the definition of peace of mind. When you purchase the MARC, you purchase a board that will last generations. Modules are simple to swap. All switches and IC's are

socketed for reliability and easy maintenance.
Future Proof.
Its features are future proof. The MARC-15 will give you all the power and flexibility that is required for a growing station or group. When you choose the MARC, you are not just choosing a short term solution, you are choosing a powerful solution that grows and changes to meet your ever changing needs.
5 Modules to
choose from.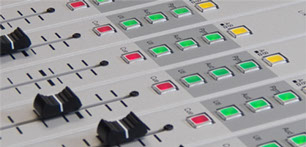 Configured your way.
You may choose to have as many Microphone, Stereo Line & USB modules that you need for the MARC, 15 channel, mainframe.
You may have up to 2 phone modules in the MARC mainframe, and 1 Studio Monitor.
This gives you the flexibility to choose which configuration best meets your studio's needs.
Expandable High Def Images:
With more than 30 years experience in the design and manufacture of radio consoles, the MARC-15 from Arrakis has the features, performance, and reliability that are required for professional radio applications.